Florence Eats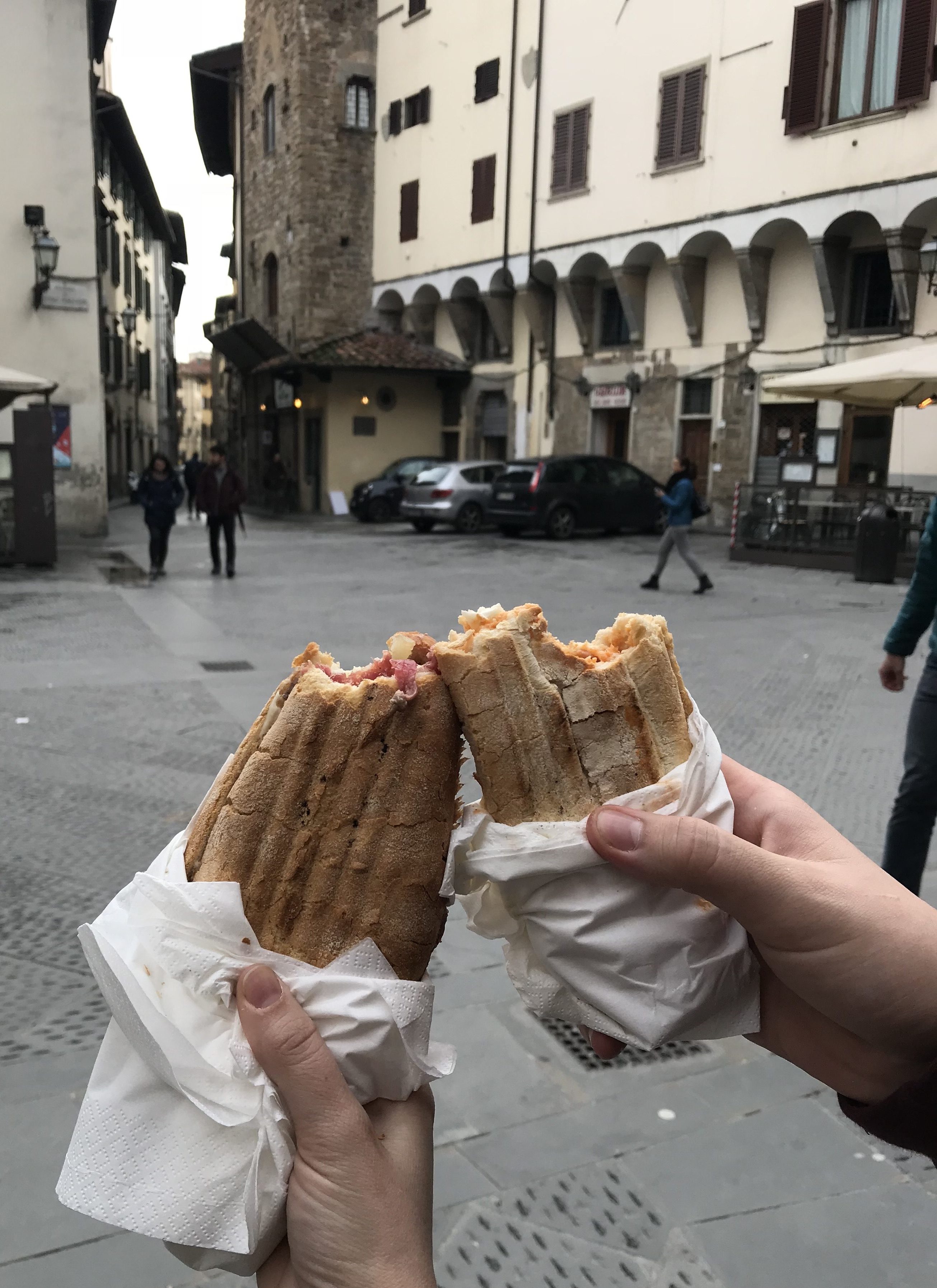 I guess there's no better time to share our favorite Florence eats than now, since we have officially closed this chapter and are already elbows deep in Spanish life. This blog post may not be interesting unless you're traveling to Florence in the near future, or if you've been and want to see how many places you loved that I didn't mention here. I had this constant anxiety that we were going to miss out on eating at the "best" restaurant with the "best" pasta or the "best" panini, and what I finally realized (or what I keep telling myself) is that everyone has different opinions about what is "best." And none of us are right, because every experience is different, and we all have different taste buds and definitions of good food. I'm still going to give you my opinions though. And I won't be mad if you choose another restaurant over one of my favorites. But, just so you know, these were all REALLY good meals. If you're anything like me and have an extreme case of indecisiveness, let this list be your key to an easy dinner decision (or at least help you figure out what you're craving).
Restaurants in Florence
L'Antico Noe: This little hidden gem ended up being some of our favorite panini in Florence. It could have just been because the adorable owner Andrea blasted music, singing and dancing while he crafted our sammies, but I swear you could taste that enthusiasm in every bite. This is a small shop tucked down a covered street, not far from Duomo. Don't be confused with the sit down restaurant next door (this is his father's spot)- this is a grab and go, let your panini crumble into your scarf kind of meal. The menu has 24 panini choices, plus the option to make your own, but I suggest finding something on the list that sounds up your alley. All four of the different sandwiches we had here were fantastic. Chris and I had a #6 (holy roast beef, this stuff was GOOD), #9 (for the sole purpose that it said spicy sauce), #15 (whatever rose sauce is, I love it), and the last one was a special he had written on a sign at the door. Whatever it was, it was good too. The icing on the cake about L'Antico Noe was that Andrea recognized us the second time we came, almost a month later. THAT'S a good business owner.
Gusta Pizza: This place is a bit of a study abroad student trap, but only because they have the right idea- cheap, good, and take away friendly. There isn't much "fast food" in Italy, unless you want McDonalds or Burger King. This place pops out a pizza in under 3 minutes, it's simple and tasty, and you can eat it wherever your heart desires. It tastes good sitting right outside at the steps of Piazza Santo Spirito, it tastes good eating it in bed watching Netflix, it's also good as a second meal after you've already eaten dinner (it was our last night in Italy, OKAY), and it's even good (but a little soggy) when you're hungover the next day. Key words for this place: fast, cheap, take away, and tasty. We like the margherita the best, but the calabrese is also good. Don't miss the spicy oil and spicy shaker on the counter.
Trattoria La Casalinga: We originally came here because they allowed us to sit without a reservation, but we came back because of the food. Okay, we came back because they let us sit without a reservation again. But in all honestly, this was probably our favorite traditional Florentine dinner during our stay. This place is nothing fancy, but the food speaks for itself and that's all we needed. The menu is only in Italian, so be prepared to use your google translate app. The "antipasto misto della casa" is a generous appetizer of various crostinis and cured meat that allows you to get a taste of almost their entire antipasti selection. We about died and went to heaven for the "ravioli burro e salvia," the most simple ravioli with butter and sage that was cooked and seasoned to perfection. I thought that was the best pasta here until I ordered the "tagliatelle al sugo di coniglio" during our second visit, which was the most insane braised rabbit ragu that has my mouth watering as I'm typing this. The "tagliata di manzo con rucola e grana" was a simple and delicious entree of sliced rare steak, arugula, and shaved grana padano. With a squeeze of lemon and a drizzle of olive oil, you'll forget about that entire bowl of pasta you just downed and find room for this dish. This is a great way to taste the delicious bistecca in Florence without having to get the whole shebang.
Trattoria Sergio Gozzi: Speaking of bistecca, if you do want to enjoy the whole shebang of a traditional bistecca alla Fiorentina, there are many places to go around town, so if you don't make it to this spot, I still highly recommend you enjoy this dish while you are in town. If you find yourself craving this beautiful bone-in seared rare steak, do your research and find a restaurant that serves the Tuscan breed of cattle, Chianina. This breed is known to be some of the best beef in the world, and can only be eaten in Tuscany. Many restaurants in town will serve bistecca, but if you are looking for the real deal, make sure it serves Chianina beef so you can enjoy the most authentic version of this iconic Florentine dish. Sergio Gozzi is only open for lunch, you must make a reservation, and you must get the bistecca. This is a huge portion of steak meant to be shared between two people, so come hungry and tread lightly with the antipasti and primi piatti. We did not want to outshine the main event so we skipped apps and went straight to the main event, enjoying our steak with a side of potatoes and a salad, and it was the perfect meal. The chef came out from time to time and stopped by some familiar faced tables to ensure they were enjoying their lunch- it seems to be a place where many locals frequent. This was one of the best steaks I have ever had.
Trattoria Sostanza: I have already gone WAY into detail about the amazing wonderment that is butter chicken in a previous blog post, so head there if you want to taste this meal in word form. One of our most memorable meals in our lifetime. I'll just leave it at that.
Impressione Chongqing: If you find yourself dying for something spicy and need a break from traditional Tuscan cuisine, you must try this Szechuan restaurant. We went almost an entire month with nothing but Italian food for every meal before finally giving in to our cravings. This was some of the best Chinese food I've ever had, period. No reservations here, just find the host and check in, get in line, and get ready to speed order as soon as you are handed a menu. You'll order your meal before you sit down, so don't lolly gag when they hand you that menu. We listened to what others ordered in line and followed suit- fried shrimp, wok chicken wings, pork and peppers to name a few. We smiled and sweated through this dinner and were so happy to have something different in a town of so much pasta. If you're feeling spicy, go here.
Bars in Florence
Pint of View: The bartenders are very friendly, they have craft beer (a rarity in Florence), AND our favorite whiskey: Bulleit Rye. They also have a young chef from Korea and she makes really fun and delicious Korean gastropub food. Their kitchen is open late, an added bonus. We frequented this bar quite often. It felt like a familiar taste of home, a typical gastropub you'd find in San Diego, but with Italian flare.
Rasputin: Directly next door from Pint of View is a speakeasy, situated in an old church. There are no signs, just an open door with candles on the floor that leads to another door where you will be greeted by the host. They will lead you down a dark stairwell to the dimly lit bar with candlelit tables and hushed conversations.  This was a really fun and out of the ordinary experience, and though the cocktails are a little pricy, it's worth it for the one of a kind experience.
Locale: This is a very fancy craft cocktail spot with really stunning decor and even more impressive cocktails. If you go here, it will be the the most you spend on a drink during your entire stay, but the innovative cocktails and witty bartenders are a treat. In a city filled with so much old school, this is a refreshing pop of pizzaz.
Manifattura: A very Italian, but still extremely trendy bar that has some really creative versions of the Negroni, a classic Italian cocktail (among other fun creations like an Italian version of an Old Fashioned). The cocktails are beautifully crafted, and they use 100% Italian ingredients. This was one of the best cocktails I've ever had. You can tell that this bar takes extreme care in the drinks they make and the ingredients they use. They have an awesome vibe, and great Italian jazz playing in the background. The menu is only in Italian, so make friends with the bartender and ask for suggestions.
Monkey Bar: This bar is owned by a San Diegan! It's a dive bar, it was a lot of fun, I don't remember much except for that (I blame Alessandro).
Fiaschetteria Nuvoli: This is our infamous wine bar, the place where we met some amazing locals, and where serendipity brought us back to on one of our last nights so we could run into our mystery man Alessandro one more time. This bar, we came to find out on our second visit, is special for many reasons, and I feel lucky to have stumbled across it. It is frequented by some of the most famous local residents of Florence: Salvatore Ferragamo, graffiti artist Banksy, and the only friends we knew and loved in Florence. They serve some of the most amazing Italian wines you will ever have a chance to try by the glass. You won't be able to taste wines like these anywhere else in the city unless you're ready to shell out some serious euros for the entire bottle. This wine bar holds a special place in my heart.
I hope this list serves someone well one day- eating is my love language, and at the very least hopefully this post at least made you extremely hungry for Italian food. We ate our hearts out in Italy, which is what we set out to do. Some of these restaurants were places I researched, many were recommendations, and all of them were meals I will never forget. Find what you're craving, don't put all of your trust in Trip Advisor or Yelp, and don't be afraid to try a spot without research if the vibe feels right. I could go on and on about more tasty places, and still have a whole notepad of good things we ate during our stay, so if this excessively wordy post wasn't enough for you I'm happy to give you more verbal food porn for your trip to Florence! Just ask!
I also have favorites from our quick trips to Naples and Rome, if you're interested, let me know and I'm happy to share!
If you find yourself in Florence and happen to take my advice on one of these places, PLEASE share your experience with me, you'd be speaking to my soul!
---
---