We moved to Europe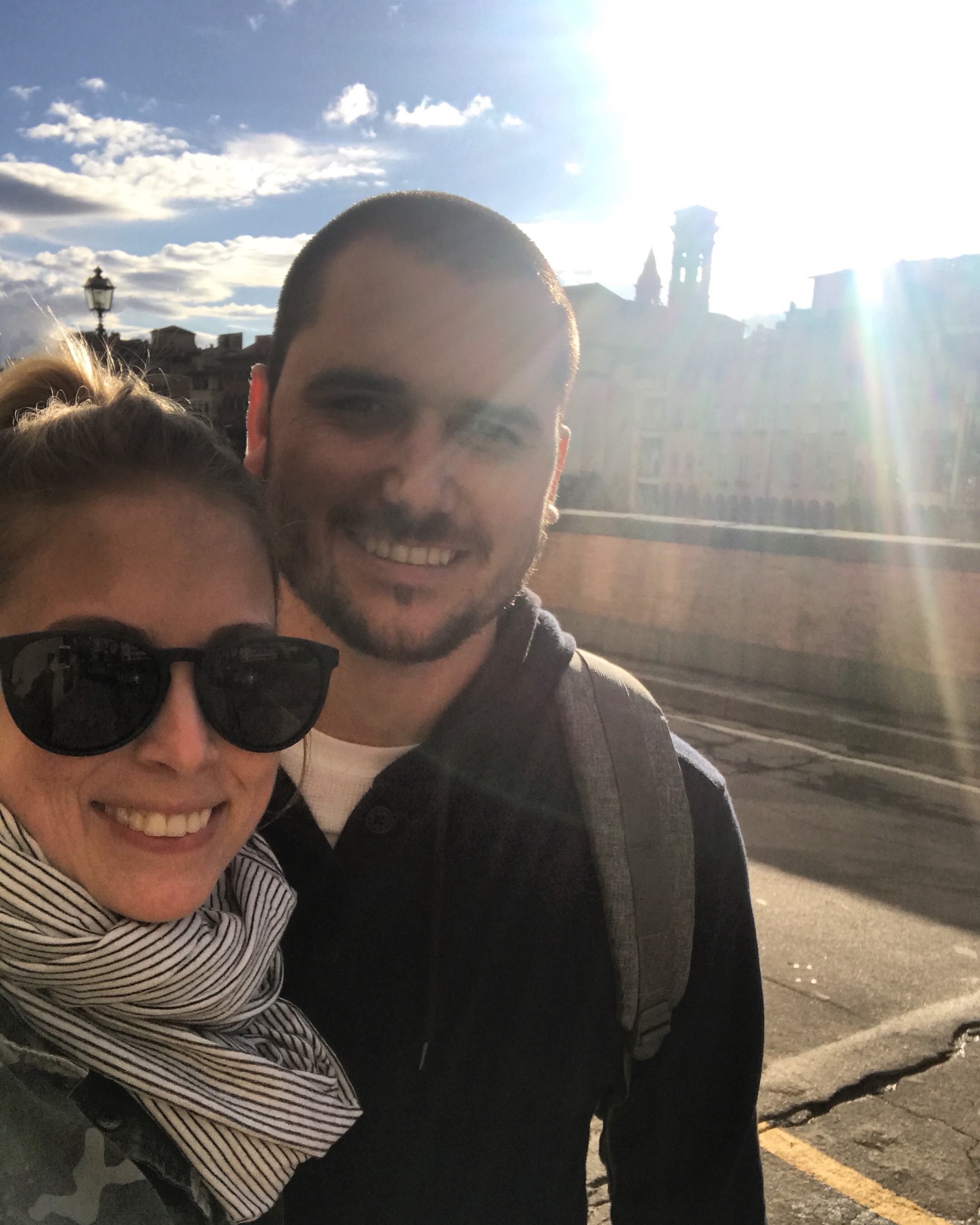 Chris and I have been so focused on "the plan" for the past 10 years (yup, we're high school sweethearts!) that we have skipped out on a lot of the fun stuff to take care of the important stuff: study hard, get a good job, work your ass off. We were getting good at this. Almost too good. It was time to shake things up, for the sake of breaking out of the monotony before we spiraled into it forever.
I remember waking up one morning a few months ago and rolling over to the face of a passed out puppy hogging my pillow. Once I dragged the 65lbs of dead weight over from the middle of our bed, I was able to face Chris. I looked him in the eyes and said "let's just move to Europe." After a rough week at work, and maybe a little family drama, it just sounded easier: a new life, a quieter and simple one, and a break from the non stop hustling we've been doing. It was mostly just a daydream- a fleeting fantasy that escaped my mind the moment I rolled back over to snuggle Harley. That is until Chris came home from work one day and said, "so I asked about working remotely and my job seems on board." Shit just got real. This was a true moment of serendipity. We were almost smacked in the face with an opportunity that just didn't make sense to ignore. Next thing we knew, we were sitting at the bar of one of our favorite weekly dinner spots, Dumpling Inn, each with a list of our top 10 places to go in the world. Unsurprisingly, our lists were almost identical- we are the type of couple that buys each other the same gifts for Christmas without knowing it (this year it was matching Herschel backpacks). Two orders of xiao long bao and a few Bulleit Rye's deep and we finally landed on two countries: Italy and Spain, for many reasons, but ultimately because of the food and culture. We obviously had to consult our HOH Harley, and he approved our absence for two months and not a day longer. They say traveling after having kids is hard, but I'm not sure it gets harder than leaving your dog for a few months.
Once the dust of planning our fantasy adventure settled, reality set in. We're really doing it. This means I'm quitting my job, we're moving
out of our apartment- the first one that's ever felt like home, and saying goodbye for now to our whole world in San Diego.
Step 1: Quit your job. Searsucker Del Mar was my second home for 4 years. I definitely spent more time here than I did at home most weeks. I started as a quiet pantry cook, and moved my way up to the loud, confident Executive Sous Chef that loved to be the boss of basically everything. I loved my coworkers, I loved the comfort of knowing practically every corner of that kitchen, and I loved the position I was in. I was so comfortable. Too comfortable. It was time to go. Searsucker: it's not you, its me. As hard as it was to break up with this job, my overwhelmingly supportive coworkers knew that it was my time and sent me off the only way we industry folks know how. Multiple whipped cream pies to the face.
Step 2: Throw your life in storage. Just as it seemed I had put the finishing touches on my favorite corner in my bedroom, we were deciding to pack it all up again. I'm pretty sure this is normal for people our age, but we've moved 7 times in the past 10 years. All I ever thought I wanted was to own a home of our own, to settle in it forever, and to never have to move again. But, alas, our lease was coming to an end, and instead of deep sighing at San Diego's impossible housing market that we can't afford, we took this as another sign of serendipity and began packing up our lives, once again.
Step 3: Say goodbye for now. I probably said this a few hundred times before we left: "it's only eight weeks!" as my family and friends looked at us with huge unsure eyes. I was only trying to drown out my doubts and fears about this crazy leap, but pretending to be chill and reassuring my friends and family was the best way to hide my own uncertainty. I definitely have FOMO (fear of missing out) and the thought of not being there for the next girls night, or being in the center of the latest drama at work is something I am still pretending doesn't bother me. I totally miss it all. But, like I'll keep telling myself and everyone else, "it's only eight weeks!" Also, sorry I'm not sorry, but saying goodbye to Harley was the hardest part by far.
So here I am, jobless in Europe with a whole lot of time and not a ton to do except enjoy myself- what's that? I'm still figuring it out, and this blog is my outlet. I'm using this time to stop, reflect on this crazy amazing journey so far, and to document this next season in life. So, go easy on me, because I just don't have it in me to sugar coat my life or style myself to the nines and stage the perfect instagram photo. I am flawed, but I do know a few things: I cook really good food and have a lot of honest advice & opinions that could be totally useless… perhaps some of you will find it interesting.
---
---